The Government Bureau for Unfettered Fun and Good Times have just released their annual edition of the Beijing Museum Pass, a booklet that gets you free or discounted entrance fee for two people into more than 100 of the city's museums and tourist attractions.

The pass costs RMB 120 and can be bought from a number of bookstores, post offices (which may prove an adventure in itself), and your easiest option, Taobao. Inside, there is information about each of the museum's directories, a brief introduction, and information on collections and new or temporary exhibitions.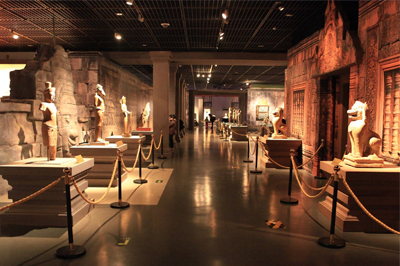 Although the pass is angled towards visitors, the vast majority of these museums would probably not appeal to someone flying through and those not included (such as the Forbidden City, Summer Palace, Temple of Heaven, and Lama Temple) are pretty cheap by Western standards anyway. They may, however, interest longer-term expats wanting to tick off some less-visited curio collections around town.

Some of the highlights on the list of discounted venues include the razzle-dazzle of:

• The Confucian Temple and Guozijian Museum (free admission for two, pictured at top) – "Ancient!"

• Xicheng's White Dagoba Temple (free admission for two) – "Majestic!"

• Beijing Ancient Coins Museum (free admission for two) – "Collectible!"

• Chinese Businessman Museum (free admission for one) – "Phwoar!"

• Beijing Planetarium (free admission for two) – "Magnets!"

• Beijing Tap Water Museum (free admission for two) – "Wet!"

Etc. etc. If nothing else, the Beijing Museum Pass gives you a concise list of things to tick off on weekends and the incentive to track down a friend to drag them out on some potentially weird, certainly memorable, shenanigans.

For more information about Beijing Courtyards for rent, please follow our website.