Beijing became a star performer in the commercial property investment market in the last quarter with a 50 per cent jump in completed big-ticket transactions. Six en-bloc transactions – sales of multiple units to one buyer – with a total value of US$5.1 billion were completed by institutional investors in the Chinese capital in the first three months of 2019, according to global real estate services firm Colliers. The 50 per cent rise from the previous quarter dwarfs the 8 per cent increase in Shanghai. But in terms of absolute volume Shanghai still led the way in Chinese cities,with 14 deals totaling US$9.6 billion in the first three months. The increase in Beijing was driven largely by a giant deal in which developer Sunac China Holdings bought a portfolio of properties from the debt-laden China Oceanwide Holdings Group for US$7.2 billion, including debt. The Beijing part, valued at US$3 billion, is a 668,500-square metre development site outside the city's east fourth ring road. "Sunac's acquisition alone accounted for 59 per cent of the total transaction value. Domestic investors still dominate the market but foreign investors have paid great attention to the market since the second half of last year," said Charles Yan, managing director for North China at Colliers.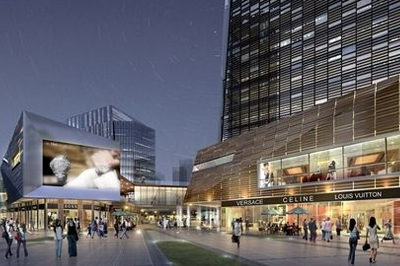 The second largest deal of the period was a consortium of global funds that spent US$1.3 billion on two underused towers in the city's ZGC innovation zone, dubbed China's Silicon Valley. That was followed by online retail giant JD.com's acquisition of a hotel in the same area from Beijing Capital Group for US$400 million.

The stellar performance at the start of the year, usually a slack season for deal-making, bodes well for the rest of 2019, with both local and foreign players actively hunting for assets.

Despite slightly looser liquidity, capital injected into the property investment market has been limited until now. Foreign investors still have an advantage [over local rivals]," Yan said. Gordon Liu, Cushman &Wakefield's North China head of capital markets, said: "Global investors generally are cautious about pricing so the transactional prices could be driven down slightly, which in turn would encourage more investors to pile in. "Transactions for the whole of 2019 definitely will beat that of 2018, already a historic peak," he said. Beijing historically is a seller's market because of the scarcity of office and retail space in downtown available for sale. It stands in contrast to Shanghai where funds with a certain maturity have to sell out after a period of holding; the majority of landlords in Beijing are state-owned enterprises or agencies with little incentive to sell.

"The past two years have been a good buying window, but the biggest problem is the scarcity of available projects for sale. The asset prices have been too high. Hopefully it could drop a bit this year," said Xu Hanping, chief financial officer of Grandjoy, a state-owned developer which is scouting buyout opportunities with its private equity funds. The lack of opportunities in core areas has pushed property hunters to outlying districts, which the city planner promotes. Bank of China this month has completed a purchase in Tongzhou from Guangzhou R&F Properties – the 57,000-square metre development site cost 2.79 billion yuan. The bank is joining other state-owned megabanks which in buying office towers near where Beijing's new municipal government is situated. Colliers said the office sector will continue to be the most active part of the broader market in Beijing, where investors will look for office assets that provide a stable income and opportunities to reposition buildings. End users will look for traditional office buildings or opportunities to convert space for office use.
For more information about Beijing apartments for rent, please follow our website.